What is a Home Inspection?
Obtain a Thorough Examination of the Structure Before You Close!
It is essential to obtain an unbiased home inspection before you close a contract for one of the most important decisions of your life. At Appalachian Home Inspections LLC, Certified WV Home Inspector Dale Shockey will thoroughly inspect all aspects of your prospective home's most critical components and systems from the foundation to the roof.
Understanding the Scope of General Home Inspections and Material Defects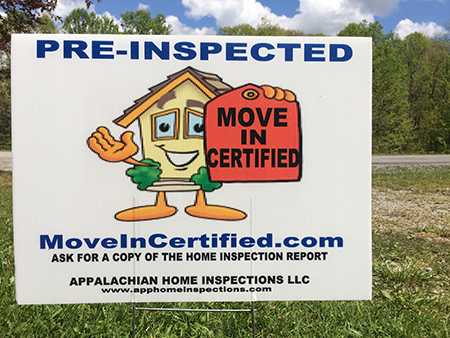 General home inspections are examinations of the visually accessible areas of the property. Your inspector will identify and document defects within the specified components and systems according to standards observed and deemed material by your inspector. Prior to the inspection, you may discuss and modify the scope of the inspection process with Dale.
Material Defect: A specific issue affecting a system or component of the home that may pose an unreasonable risk of harm, or result in a significant adverse impact on property value. Please note that appliances, systems, and components nearing the end of their useful life are not typically considered material defects.
General Home Inspection Report: Performed to identify defects within the systems and components defined by industry standards on the date of the inspection that are both observed and deemed materially relevant by the inspector. The report is not intended to be used to predict future conditions, and will not reveal every possible issue that exists or could possibly exist. It is a snapshot of material defects observed on the date of inspection. The report is provided in written form, and may include additional comments and recommendations.
An Objective Determination of the House's Condition
The home inspection process is a noninvasive, yet comprehensive, means of objectively determining the condition of the house. The structure of the home, as well as the plumbing, electrical system, climate control, roofing, interior and exterior components are examined and any deficiencies are noted. Digital copies may be downloaded within 24 hours for most standard home inspections.
What You MUST Know Before Buying a House
Structure: The foundation, footings, framework, skeleton, and roof are the most important aspects of the house. These structural members determine the load-bearing capacity of the house and their integrity must not be compromised.
Electrical: Any electrical concerns or deficiencies may pose a serious fire or safety hazard now or in the future. Because it is impossible to know when an insufficiently intact electrical system will fail, these deficiencies must be identified, located, and corrected for the safety of you and your family.
Heating and Cooling: When the climate control (or HVAC) systems of a home fail, they are amongst the most expensive repairs and replacements. It is important to have these components tested to determine their operating capacity, age, and whether or not they are working properly. We test all heating and AC systems for your peace of mind.
Roofing: Of all of the items of your house, the roof is potentially the most expensive to replace. It can easily cost thousands to tens of thousands of dollars to repair or replace a failing roof, so it is critical to have a professional inspection completed prior to buying the house. Dale will inspect the soundness of the roof structure, the condition of the covering materials (shingles, metal, etc.), chimney and flashing, water penetration and leakage, as well as the drainage effectiveness.
Plumbing: A leaking plumbing system can be difficult to detect. Hidden leaks, improperly installed plumbing, and installation deficiencies can be hidden and lie undiscovered until a catastrophic failure leads to significant damage. Appalachian Home Inspections inspects the home's plumbing system for leaks, water pressure, flow, fixtures, and drainage capacity.
Exteriors: The exterior of a house is its main defense against degradation by the elements. Any major deficiencies of the siding, landscape grading, attached structures, door functionality, window integrity, foundation, electrical, and related components will be duly noted and included in your inspection report.
Interiors: The basic functionality of essential interior components are inspected to ensure livability and adherence to codes. Some items tested will include toilet, switches, appliances, doors, windows, faucets, and lighting functionality.
Areas of inspection typically include:
Roof
Plumbing
Exterior
Electrical
Structure
Fireplace
Heating
Cooling
Attic
Interior
Doors & Windows
Insulation & Ventilation
Basement
Foundation
Crawlspace