Home Inspections in North Central West Virginia in 24 Hours
Dale Shockey, Certified Home Inspector
"With over 30 years experience in the building industry, I have the knowledge and training necessary to give you the confidence that your home is safe for you and your family."

-Dale Shockey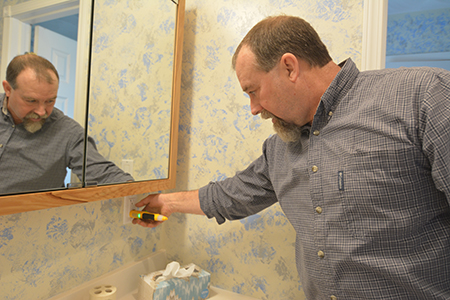 Whether you are planning to buy a new home, sell your home, or are a homeowner interested in having your home inspected for any reason, you can rely on Appalachian Home Inspections LLC. Our Certified Home Inspector, Dale Shockey, will provide you with a professional computer-generated home inspection report within 24 hours for standard inspections.
Written inspections are delivered within 48 hours, and all other specialty testing and inspection reports are provided to you as promptly as possible. We know how valuable your time is, and are aware of the limited timelines involved with real estate transactions.
A Home Inspection for Peace of Mind, Not Added Stress!
Having an inspection completed will give you peace of mind, but until the results are received, you may experience added stress. To ease your mind, watch the video to see what a home inspection consists of, as well as what steps may be taken during your inspection. Rest assured that Dale Shockey is a member of InterNACHI and is fully licensed and certified by the state of West Virginia to inspect your property.
Learn About Maintaining Your New Home
It is important to remember that even though a house looks like it is in great condition, appearances are frequently deceiving. The house may have serious hidden flaws. An extensive checklist is utilized to provide a solid view of apparent and, in some cases, potential problems.
Some of the main areas examined include:
Grounds, Water Issues, and Landscaping
Foundation, Structure, and Squareness
Roof Defects (Shingles, Fascia, Flashing, etc.)
Exterior Condition, Decay, Rot, Disintegrating Masonry, Stucco, and Paint
Doors, Windows, and Trim
Interior Framing
Stained Ceilings
Insulation
Heating and Cooling
Electrical Panel, Wiring, Outlets and GFCIs Where Required
Bathroom and Kitchen Functionality
Plumbing, Water Heater, Water Pressure and Temperature
During the inspection, you may want to consider accompanying Dale. You can learn a lot about where the house's infrastructure is located, as well as how to perform ongoing maintenance and emergency procedures (gas, electrical, and water shut-off). Contact Appalachian Home Inspections LLC to schedule your inspection in North Central West Virginia: (304) 614-0636.